Friday, May 17, 2013 - 10:46am
I've had the pleasure of knowing
Ned Durrett
and watching his music evolve and fan base grow over the past five years.  From solo shows around town to forming his band Ned Durrett
&
The Kindly Gents to playing the Savannah Stopover Festival in March, Ned's come a long way in a relatively short amount of time.
Now called
Ned and the Dirt
, the band has released its first album,
Giants,
and it doesn't disappoint. Fans familiar with the band's repertoire will be happy to hear several favorites on the album, including the "sexy song" (otherwise known as "Turkish Delight") and the crowd-pleasing "Sugar," as well as entirely new material, like my personal favorite on the album, "In Ronda." 
"Physical Proof" kicks off Giants with a clever balance of Ned's powerful vocals with Trey Lewis' guitar. "Closer" follows, a solid tune that on its own serves as a good representation of the band's overall sound. Next is the gritty and memorable "Boyhood Pride", which was recently featured on Stereofly's April mixtape. "Three boys were walking. / Two boys came home." The darker territory "Boyhood Pride" drifts into is well-served by its production; Kenny McWilliams' work on this song, and the album as a whole, is fantastic. Also a standout is the aforementioned "In Ronda," which has a slightly different, more hopeful sound than some of its companions on Giants.  It rounds out the album nicely, and, as I imagine it's one of the band's newer songs, makes me excited for what they will do next.
You can pick up a copy of
Giants
and see 
Ned and the Dirt
 perform at their upcoming album release show Friday, May 17th at New Brookland Tavern.
Click Here To Read More
Thursday, May 16, 2013 - 12:00am
Charlotte,
NC
is part of the Bible Belt and 
Young and in the Way
intend to spank your ass raw over their collective knees with it. World renowned aggressive music label,
Deathwish Inc
. has announced that 
YAITW
 will be joining their ranks. Self-described as American Blackened Crust,
YAITW
is truly nothing to be fucked with. Pounding blast beats, down-tuned thrash riffs, and vomit inspiring vocals ferociously slash, only to come to a dirge-like halt.
A live show not to be missed; blood, candles, incense, violence, pig skulls, knives, darkness, high decibel readings. A new release, "When Life Comes to Death," will pop 
YAITW
's Deathwish Inc. cherry, but you can find other releases from 
YAITW
 via A389 Recordings. Antithetic Records, and the band's Bandcamp website. 
Click Here To Read More
Wednesday, May 8, 2013 - 2:09pm
The Stereofly has an exclusive video premiere of David Childers' of Overmountain Men performing the final track "Twilight Road" from their latest release The Next Big Thing with bassist Bob Crawford (The Avett Brothers).
The Stereofly is happy to announce that Ramseur Records' artist Overmountain Men will be playing our Memorial Day Rootsy Revival on May 26 at Art Bar in Columbia, SC.  The event features ten bands from the Southeast and will benefit Hidden Wounds, a non-profit organization providing treatment and counseling for veterans and military personnel suffering from TSD, TBI, and other psychological injuries.
Overmountain Men "Twilight Road" from The Stereofly on Vimeo.
The core of 
Overmountain Men
 is Bob Crawford, bass player for
The Avett Brothers
on bass and vocals; the Charlotte-based singer/songwriter, David Childers on guitar and vocals; guitarist Randy Saxon, who also contributes banjo and mandolin; and drummer/percussionist Robert Childers.     
"David is the most prolific North Carolina songwriter alive," said Crawford, a long-time fan of Childers.  "Everywhere I go people ask about him. It is great to see people constantly discovering this man and his massive body of work."
Their sophmore release
Next Best Thing
is available now on
iTunes
, the follow-up to their highly-acclaimed 2010 debut, 
Glorious Day
.
Click Here To Read More
Thursday, May 2, 2013 - 8:53am
TREE HUGGER
7 out of 10
Terrapin Brewing Co. out of Athens, GA has provided nothing short of stellar over their history as a brewery.  Their Golden and Rye beers are a great staple, available everywhere in Athens, and their seasonals Wake N' Bake, Moo Hoo and Hop Karma are quite unique.
Click Here To Read More
Friday, April 19, 2013 - 5:19pm
Laura Pleasants and Phillip Cope of Kylesa will be appearing on the Reddit IAMA thread tomorrow at 1pm EST.  Reddit is a site where users can submit news, photos and text.  These are organized into categories known as subreddits (i.e. funny, news, politics, etc), and one of the more popular subreddits is IAMA.  The focus of IAMA is to give (generally) higher-profile people a chance to be asked anything from redditors with an easy format to quickly respond.
In short, this will be your chance to ask two of the most innovative musicians in the metal world anything your heart desires.  
Things of note:  They are playing a FREE show in Savannah TONIGHT at The Dollhouse and their new album, Ultraviolet, will be released next month.  They will be doing a full US tour along with some Canadian dates throughout May and June to support the album.
Since we have posted the songs you can currently stream from the new album already, here's my favorite track from their recently released From The Vaults, Vol. 1.
Click Here To Read More
Friday, April 19, 2013 - 1:47pm
Record Store Day is almost upon us. If you did not know, Record Store Day is a fabricated holiday that happens the third Saturday in April that started in 2007. Tons of records are released exclusively through independent record stores all over the country. Most of the records are limited runs, previously unreleased material, special edition colors, and other enticing vinyl goodness that draw record lovers to spend their money in support of the declining business of selling physical music. Make sure to get out early to your local record store (most open their doors early like Papa Jazz is unlocking their doors at 8 a.m.) to get cream of the crop. Check out http://www.recordstoreday.com/SpecialReleases for the list of all the releases available this year.
BRETT

KENT

//

STAFF

PICKS
At The Drive-In - Relationship of Command 12"
Botch - American Nervoso 2xLP
Brian Jonestown Massacre - Fist Full Of Bees/Food For Clouds 10"
The Cure - Kiss Me Kiss Me Kiss Me 2xLP
Justin Townes Earle - Yuma 10"
Grizzly Bear - Horn of Plenty 12"
Sigur Ros - Agaetis Byrjun 12"
White Stripes - Elephant 12"
The Zombies - The Zombies 12"
ALEX

STRICKLAND

//

STAFF

PICKS
The Band - Last Waltz
The Black Keys/Stooges - Side by Side: No Fun
Botch - American Nervoso (Deluxe
2XLP
Reissue)
Cave In - Until Your Heart Stops
Deftones - Live: Volume 1 - Selections from Adrenaline 
GZA
the Genius - Liquid Swords Chess Box
Misfits/The Lemonheads - Side by Side: Skulls
Frank Zappa - I'm the Slime/Montana 7"
Touche Amore/Title Fight - Split 7"
SANDRA

MOSCATO

//

STAFF

PICKS
Public Enemy Public Enemy: Planet Earth–The Rock and Roll Hall of Fame Greatest Rap Hits - Political and energized rap from my youth.
Rolling Stones 5X5
EP
- Got into the Stones in my mid-20s… later than most… realize I love em.
Sly
&
The Family Stone - I Want to Take You Higher - It'll make you dance. Everyone needs a record to dance to. 
Various Artists: Imaginational Anthem Vol. 6: Originis of American Primitive Guitar - Sit on the porch, drink your coffee, and write to some sweet soulful music with history.
Various Artists Blues at Newport 1963 - Raw blues in the state that I call home, Rhode Island. Sounds like a perfect mix.
KAYLA

CAHILL

//

STAFF

PICKS
Cake Sheep Go To Heaven B/W Jesus Wrote a Blank Check
Grizzly Bear Horn of Plenty
Tame Impala Tame Impala
EP
White Stripes Elephant (10th Anniversary)
Nick Drake Nick Drake
TROY

THAMES

//

BURNT

BOOKS

DRUMMER
Best Coast 7"
my wife and I love this band and she would be very upset with me if I didn't pick this one up. Bethany Cosentino has a beautiful voice!
Grey Area "Fanbelt Algebra" 12"
my old band The Megameants played with Grey Area in the late 90's while on tour somewhere in Northeast area. I remember freaking because they the ex-members of Warzone
&
Black Train Jack! It was right after Raybeez from Warzone died. They were a great band and great people but I never bought anything by them. This has been out of print for 10 years so it would be a great blast from the past!
Face to Face "the other half" 10"
Speaking of 90's, Face to Face is one of my favor bands of all time. I love all of their records (good
&
the "bad"). I own almost everything by this band and that's why I would pick this up as well. I'm a lifer when it comes to Face to Face! Ask my bandmates…I love to blast Face to Face and torture them with great pop-punk.
Braid "Frames

&

Canvas" 12"
Wow, I feel really old. This is the 15th Anniversary of this release. I remember when this first came out. It was a game changer. It had great vocals, technical rhythms, and incredible drums. Needless to says I fell in love with this band and later loves their next project (Hey Mercedes) even more. This record has stood the test of time. My wife and I spin this record very regularly. I am buying this on
RSD
because other copy is worn out.
Samiam "Clumsy" 12"
To explain how much I love this band…some of my closest friends and I went to The Fest a couple years ago and we stood in line for tickets for what seemed liked forever. The reason I wanted to go was to see Samiam and they were playing early. We finally get our tickets/pass and ran what felt like 20 blocks. We got there just in time for Samiam to start and when they played their first note I just started crying in joy! Clumsy was the soundtrack to the summer of my high school sophomore year. I will always love this record and this band. I have always wanted this on vinyl. Now I will be able to…thanks Record Store Day!
WES

GILLIAM

//

RADIO

ROOM

BOOKING

AGENT

&

SHUFFLE

CONTRIBUTOR
Built To Spill - Live 12"
BTS
are just one of those bands you have to see live, and this era of the band was prob my favorite as I saw them a bunch of times close to this time period. Also they are probably the one band who can play "Freebird" live and make it cool b/c Doug Martsch and co. can just wail on it.
Big Star - Nothing Can Hurt Me 12"
Comprised of demos and alternate mixes, this collection is more of an addition to a diehards back catalogue than a casual fan intro piece. Modern pop/rock music owes more to Big Star than they will ever know, glad to know these guys are getting a documentary.
Husker Du - Amusement 7"
After finally reading Bob Mould's autobiography a few months ago, I had even more respect for the group than before. As far as primal, beat-you-over-the-head-hardcore, no one did it better than earlier Husker Du, even when they let their melodic side shine through.
Lonely Island - Yolo 7"
When I first really got into discovering music as a kid, my dad gave me his massive stereo and his old records and amongst them was Steve Martin's "Comedy Is Not Pretty!" and "Let's Get Small". Humor is often something that resonates with children, so while Lonely Island may not quite be Steve Martin, I owe it to any accidental offspring I incur to get something that will make them laugh.
Misfits/The Lemonheads - Skulls- Split 7"
The Lemonheads performed what is probably my favorite cover of all-time, making The Misfits vicious anthem of "Skulls" into a sweet acoustic ballad. Damnit, I guess this makes me an enabler, tie on one for me Evan Dando.
ALEC

EDELSON

-

WUSC

 

&

METAL

COCK

RADIO
Testament Dark Roots of the Earth
Does it need asking? Testament has been one of the pioneers of thrash metal and the fact that they're still releasing awesome albums is nothing short of a miracle. While Megadeth and Metallica are falling short of their heyday, Testament is still chugging along. And what's even better is that they're still getting recognition for it! This album charted at 12 on the 200 Billboard Charts, and it's still great thrash!
Coheed and Cambria Afterman Descension (Big Beige Demos)
Coheed and Cambria for years was one of my biggest "guilty pleasures." As a high school metal head elitist, I didn't advertise my love for Coheed and Cambria too much, but as I grew older two things happened: I grew up and stopped caring what other people thought, and Coheed got less awesome. Year of the Black Rainbow was incredibly underwhelming and I found myself listening to Coheed less and less. Then they released The Afterman albums, and damn. Just damn. Welcome back Coheed.
Between The Buried And Me Parallax 1 and 2
Honestly I can't claim to be a big Between the Buried and Me fan. Almost everyone I know is crazy about them. As for me, I like them just fine when they're on, but I never go out of my way to listen to them. But I've heard nothing but greatness coming from the reviews for these albums. I figured I'd have to check it out eventually and what do you know? It's a Rush record! These guys have gone full out prog and I think I like it. I'd have to sit down and listen to both parts back to back and what better medium to do it on then vinyl?
Dio Magica
It's Dio. Next.
Pink Floyd See Emily Play B/W Scarecrow
Pink Floyd is one of my all time favorites, though honestly I haven't listened to a lot of their stuff with Syd Barrett. I'd like to though…
KATE

APPLEBAUM

//

WUSC

PUBLIC

AFFAIRS
The Black Keys/Stooges Side By Side: No Fun
Cake Sheep Go To Heaven b/w Jesus Wrote A Blank Check
Sly and the Family Stone I Want To Take You Higher
The Roots Things Fall Apart
Grouplove/Frightened Rabbit/Manchester Orchestra
Architech/Make It To Me
Steve Moore - Horror Business
Zombi rules, Steve Moore going "full Italian" I'm sold.
Dust -Dust/Hard Attack
Had these on cd for years stoked to get them on one vinyl Great old school hard rock featuring Marky Ramone!
GZA

- Liquid Swords Chess Box Set
One of my all time favorite albums and for some reason I have never picked this up on vinyl, I guess I was just waiting for this chess box!
Rodriguez - Cold Fact
Well i would have gotten this if it wasn't only available at Coachella. Seriously one of my favorite mix jobs on an album, Very trippy!
Chelsea Wolfe/King Dude -Split 7"
I usually don't go for the gimmicky 7"s record store day is bogged down with, but i might have to make an exception for this one.
Click Here To Read More
Friday, April 19, 2013 - 12:30pm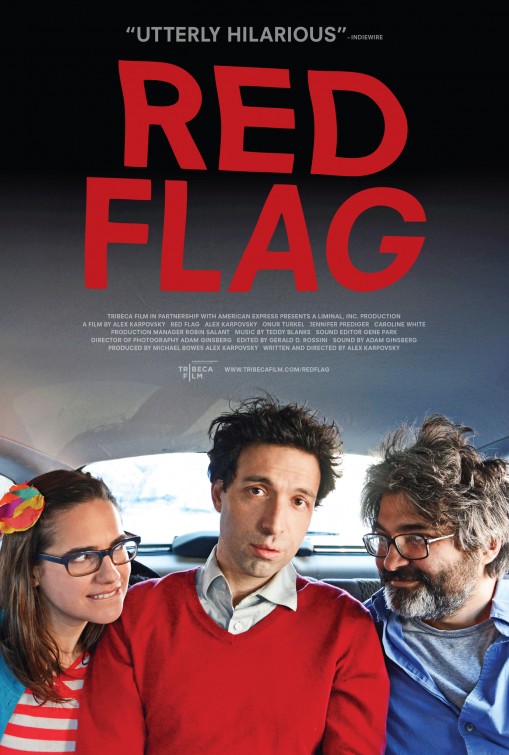 Red Flag… how fitting. I was pulled into being annoyed with a director so egocentric that he writes a movie portraying a self-centered, know-it-all that bares the same name. But then I realized how well it worked together, creating an obvious battle between man and ego.
Let the road trip really begin with the right combination of strangers. Jennifer Prediger playing River, Onur Tukel playing Henry, and Writer, Director Alex Karpovsky playing Alex Karpovsky. The oddball group hops from one theater to the next, attending screenings of Karpovsky's 2008 film Woodpecker. One scene portraying the high of being a winner, balanced by its antithesis in the next. Karpovsky's character receiving respect from film followers, followed by a lack thereof in his day-to-day interactions.
Editor and cinematographer, Adam Ginsberg, creatively assembles a montage, similar to the intro of The Brady Bunch, not as portraits but as active scenes. This collage of imagery combined with lovely horn melodies from Teddy Blank's original score, adds another artistic dimension to the film.
You can catch Red Flag at The Nickelodeon on April 20th at 8:00 for the Indie Grits Film Festival.
Click Here To Read More
Wednesday, April 17, 2013 - 9:45am
Savannah tour de force KYLESA will be hitting the road for a full US and Canada tour next month, but their hometown is receiving a free preview on Friday, April 19th.  With local acts Bear Fight and Wet Socks, the psychedelic metal band KYLESA will play an all-ages event at The Dollhouse.
Check out the track "Vulture's Landing" and "Unspoken" from KYLESA's upcoming release, Ultraviolet.
Click Here To Read More
Monday, April 15, 2013 - 3:06pm
Get Better is an affecting and honest creation by micro-budget filmmakers Chris and Emily White of Greenville,
SC
. After raising the necessary $12,000 on Kickstarter, Get Better was filmed, edited, and released in less than five months, a notable achievement for any feature-length film.
Get Better focuses on a week in the life of Ellie and Roy Alexander, played by Marisa Viola and Robert Linder.  A father and daughter living under the same roof, their relationship is defined by Roy's chronic illness as well as his former glory as a teacher at the same high school for which Ellie now works, whose own career is on shaky ground. The film opens on a meeting between Ellie and the school's principal, played by Lisa Anzelone, in which the two discuss Ellie's work performance and the upcoming film being made about her father, who has just won a Lifetime Legacy Award. The pacing of this scene is very real-time, reminiscent of those in 2008's Rachel Getting Married, yet the film picks up pace by effectively using editing to establish the characters' distinct personalities. When we are introduced to the film-within-a-film's executive producer and Ellie's childhood friend, Stu (Monica Wyche), the quick, choppy nature of the scene immediately clues us in to her brash nature. Rounding out the cast with a natural performance as Ellie's devoted but under-wraps boyfriend is writer and director Chris White.
Marisa Viola is easily the standout of the cast. Her Ellie is tragically real, certain to strike a chord with anyone who has had to put their personal needs aside out of familial or friendly obligation.  Robert Linder's Roy is off-putting and endearing, delivering lines like, "These are my impromptu cookies. I make them every night," with alarming sincerity. The details of his disease are revealed to the viewer only as they are exposed through his interviews in Stu's film, which, like the actual film, ends up being very much more about Ellie.
While there are some complaints to be made about sound quality, especially in the car scenes, this is more than made up for visually, as there are some truly beautiful shots to behold. This is certainly not a review of Avatar or The Hobbit, but there is something to be said about the possibility of creating something interesting and beautiful without spending millions on cameras and 3-D technology.
Bottom line: Get Better will make you feel something. It is artfully made, well-acted, and subtle, and it should make a great addition to this year's Indie Grits line-up.
You can see this film on Thursday, April 18th at 8:30pm at The Nickelodeon in Columbia,
SC
.
Click Here To Read More
Monday, April 15, 2013 - 9:42am
Stereofly's trip to
SXSW
was a blast, filled with more bands and great performances than I can count on my fingers and toes. One of the great moments of the trip was seeing Charles Bradley at The Daptone Soul Revue. His band, The Menahan Street Band, projected silky smooth soul and booming funky tunes while Charles Bradley danced and sang with an intensity I had never seen before (if you don't count James Brown's Live at The Apollo
DVD
).
Charles Bradley played classics from his acclaimed debut full-length, No Time For Dreaming, and new songs from his upcoming album, Victim of Love. Now that Stereofly is back from
SXSW
and that Victim of Love has released worldwide, we have been listening to this album non-stop.
Charles Bradley, 65 years old, grew up under his grandmother's care in Gainesville,
FL
.  At the age of eight, Charles moved to Brooklyn with his mother. In 1962, Charles' sister brought him to the famed James Brown concert at the Apollo Theater and forever changed his life. Between then and now, Charles Bradley has been homeless in New York, a chef in Maine, a cross country traveler, a James Brown impersonator, and the front man of a few R&B groups that never materialized. A hard road paved with bullshit and obstacles has led Charles Bradley to this day. Confident and proud, Bradley's work is only getting better with time.
Victim of Love, like it's predecessor, is beautifully simple and poignantly lyrical. Messages of love and much needed change within society are persistent throughout. Mostly positive, but sometimes heart wrenchingly tragic lyrics paint beautiful pictures of love both lost and found, highlighted with backup vocal harmonies and striking musicianship.
Victim of Love's first track, "Strictly Reserved For You," really sets the pace. Excellent instrumentation with soulful vocal projection allows the listener to prepare for the soulful power of the rest of the album.  
Songs like "Confusion" show off a psychedelic side to the band that had yet to be revealed.  Slow, ballad-esque songs like "Let Love Stand A Chance" and "Crying In the Chapel" are moving and powerful beyond words. Every note struck by Charles Bradley has hints of pain and anguish yet to be discovered. Victim of Love smoothly transitions from funk bombs to smoky soul seamlessly. The composition and juxtaposition of the track arrangement balances perfectly. Playful funk tracks paying homage to Curtis Mayfield and James Brown can be heard within "Love Bug Blues" and "You Put the Flame on It."
Had Victim of Love come out thirty years ago, no one would have second guessed it. The fact that it is a contemporary release, simply put, blows me away. It is a monument to the revivalism of funk and soul, the kind of music that was predominate in the 60's
&
70's. Consistency and uncompromising material matter the most to Mr. Bradley and I have a feeling we will see more releases that continue to impress the funk world.
Both of Charles Bradley's albums are great, but they don't hold a light to the live spectacle of him and his band's performance. Truly a spectacle to be witnessed first hand. Catch him spreading the infectious message of love throughout the southeast.
Apr 17 • The Orange Peel • Asheville,
NC
Apr 18 • The Pour House • Charleston,
SC
Apr 19 • Georgia Theatre • Athens,
GA
Apr 20 • Waverly Boogie • Waverly,
AL
Apr 21 • The Masquerade • Atlanta,
GA
Apr 24 • Jack Rabbits • Jacksonville,
FL
Apr 25 • Vinyl Music Hall • Pensacola,
FL
Apr 26 • Festival International de Louisiane • Lafayette,
LA
Apr 27 • New Orleans Jazz
&
Heritage Festival • New Orleans,
LA
Apr 28 • One Eyed Jacks • New Orleans,
LA
May 1 • Antone's • Austin,
TX
May 2 • Trees • Dallas,
TX
May 3 • Beale Street Music Festival • Memphis,
TN
May 4 • Exit/In • Nashville,
TN
Click Here To Read More
Pages